You can support My Money Workshop in many ways.
Financial donations help us create financial programming for people in the Tri-State area.
My Money Workshop encourages donors to check with their employers for possible matching gifts. If your corporation has a foundation, please consider making a connection.
Turn Your Purchases Into Donations
Shop on Amazon or use Giving Assitant to make your purchases work for My Money Workshop.
When You shop at smile.amazon.com, My Money Workshop can increase our AmazonSmile donations.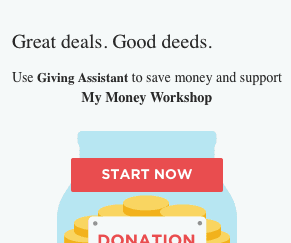 Donate to My Money Workshop while you shop! Just use Giving Assistant. Giving Assistant shoppers not only get great deals like exclusive Bed Bath & Beyond coupons, they also save money at over 3,000+ popular retailers like Home Depot, Aliexpress, and eBay, all while earning cash back and raising funds for organizations they value. Try it today!
Become a Volunteer
Sign up to volunteer. If you have a background in Finance, please consider signing up to teach.
Bring Us to Your School or Center
Contact Us to become a client.