My Money Workshop's Foundation for Financial Success Program
This year's financial literacy program at Cardinal Spellman High School was a great success! Over 100 students completed the virtual program and we received extremely positive feedback after the completion of the program. Moreover, this year's program was sponsored by Signature Bank! We are so thankful to them for their generous sponsorship of this program. (Read more below about this partnership)
Before the program, each student participated in a mutual fund assignment before starting our program. Each student was assigned 3 companies and asked to create a mutual fund from 30 companies on the Dow Jones. Once they completed their assignment, they were ready for our program. The four-part program series that was delivered during four consecutive weeks to seniors is part of our Foundation for Financial Success Program curriculum. The students learned secure and intelligent strategies that will impact their financial decisions.
Our instructors and volunteers have developed an efficient and influential curriculum. Basic money management, budget management, credit/debt management, and banking/savings are the core topics within our program's curriculum. Furthermore, we provide participants with valuable tips and knowledge on these particular topics.
Our Program's Impact on the Students of Cardinal Spellman High School
Ten instructors and several guest speakers helped deliver the program to students. Cardinal Spellman has been a My Money Workshop client partner for several years and our contact, John Schoenberg, a teacher at Cardinal Spellman High School says, "I would recommend My Money Workshop to any school."
During our programs we emphasize the importance of taking actionable and cautious steps that can improve each student's financial wellness. After completing the program, many students revealed that they will begin saving their money. Students also revealed that our program has increased their knowledge and confidence in money management.
What Students had to Say:
Thank you for bringing financial literacy to my attention. The importance of saving money when you're younger can make your adult life easier.
Sincerely, Brielle
Thank you very much for coming in and speaking with my class. Your presentation and information was very informative. Getting to know the real meaning of financial freedom and what it means to be financially responsible was very interesting and greatly appreciated. Thanks again!!
Sincerely, Kayla
Thank you for the lovely presentation today! Your presentation opened my eyes up to what I should be spending my money on and what decisions I need to make that will create a path for my future.
Sincerely, Mia
The Generosity of Signature Bank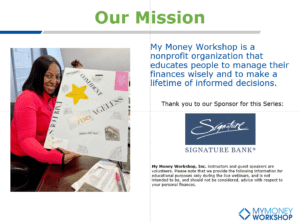 Signature Bank has helped us significantly in pursuing our commitment to helping communities through financial-wellness education. We are incredibly appreciative that Signature Bank has sponsored Foundation for Financial Success Programs since 2020.
Signature Bank also sponsored our Neighborhood Opportunity Network (NeOn) Financial Literacy Program and provided us with a $5,000 grant. The program provided participants in the probations system with an effective eight-part financial wellness program. Each participant that completed the course was given a stipend to go towards their savings account.
We look forward to a continued partnership with Signature Bank. Their generous support allows My Money Workshop to deliver customized programs to hundreds of participants each year. Partnerships like this help that My Money Workshop programs remain free of cost to participants and clients.
My Money Workshop's mission is to educate people to manage their finances wisely and make a lifetime of informed decisions. Learn how your company can become a sponsoring partner here.