My Money Workshop 2022 Annual Report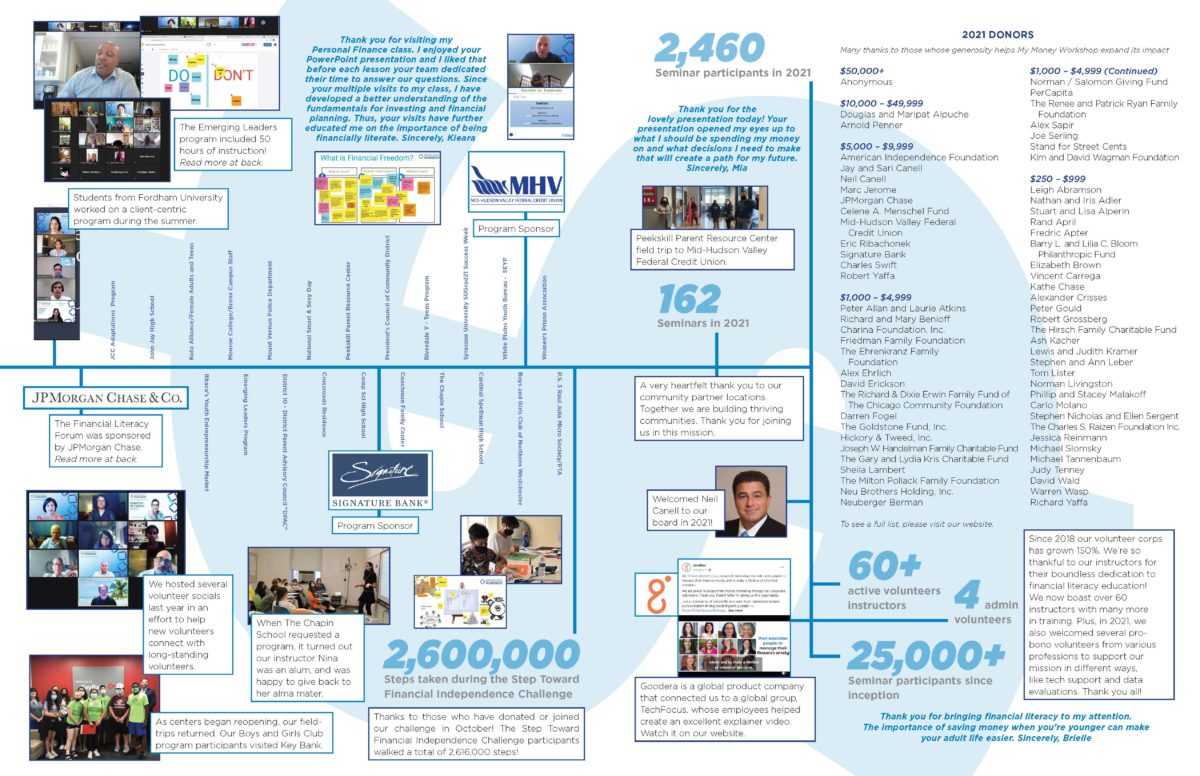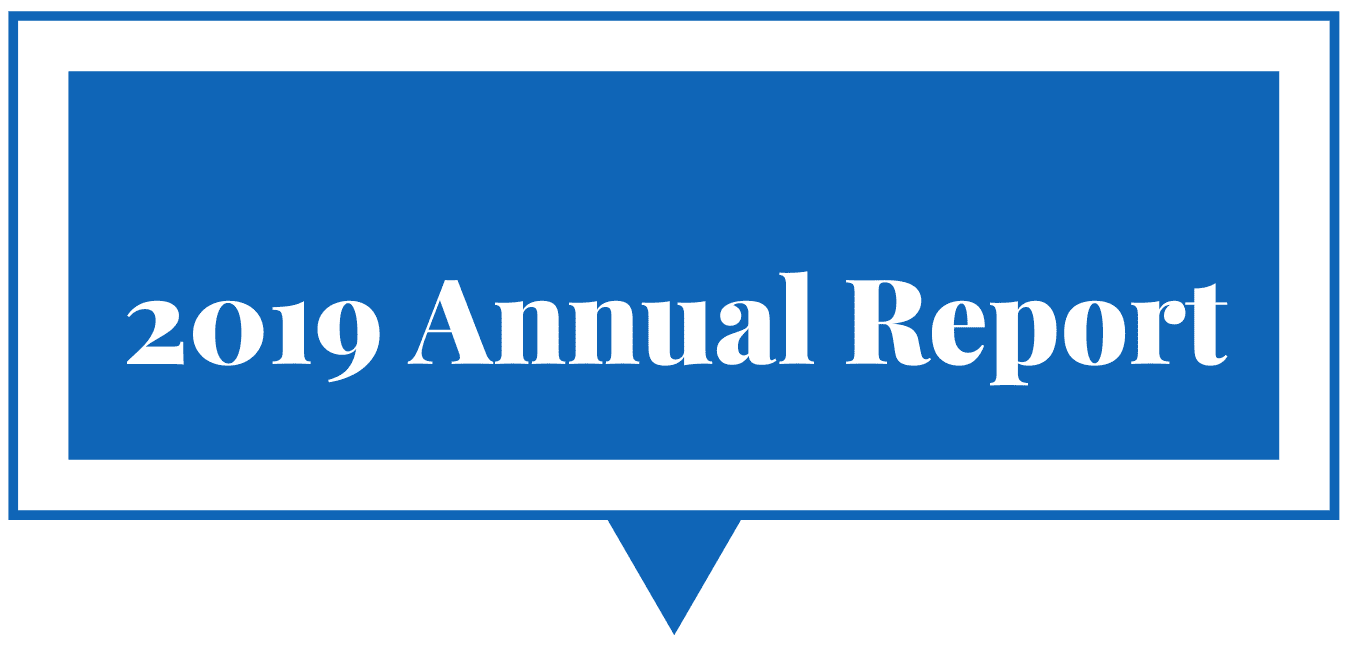 We reached 400 more participants in 2019 than last year! Your support guarantees that more and more people each year receive the tools they need to build financially successful lives. More than 3,000 participants received financial literacy education in 2019 ranging from youth at summer camps, to parents associations and other adults in several community partners.
Class sizes ranged from small to large; our Syracuse classes totaled over 100 students. Participant ages ranged from 12 to 50+.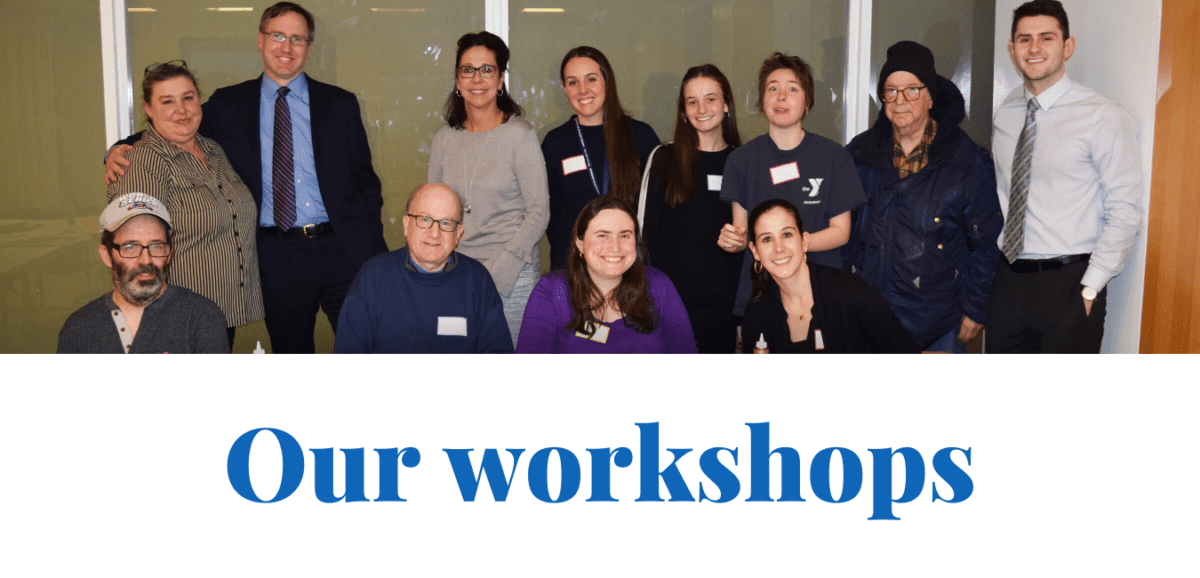 You helped us reach more clients and host 280 workshops, an increase over last year's 214. The increase was also due to a higher demand for ongoing programs and series at the following client organizations.
Crossroads Residence – Monthly
Regan Residence – bimonthly
Coachman Family Center Adult program – weekly
Coachman Family Center Teens program – quarterly
Mount Vernon Career Center – monthly
One Stop Employment Center – monthly
IMatter Programs – 3x/year
Peekskill Saturday Academy – weekly every 6 months
Peekskill Parent Resource – monthly
JobStar – 3x/year
Women's Prison Association – quarterly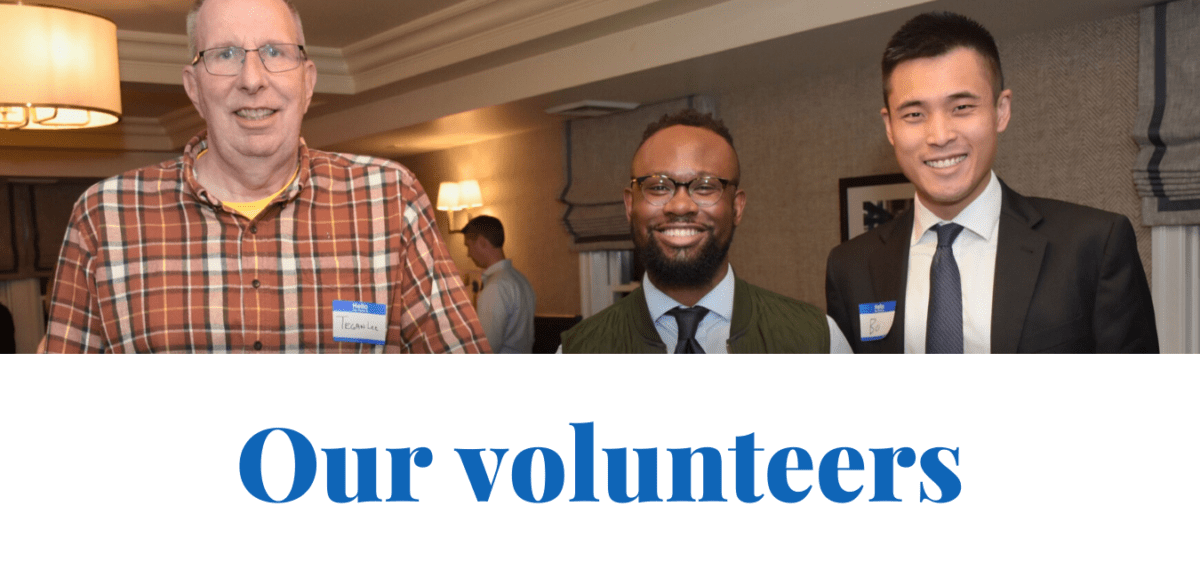 Our volunteers donated over 400 hours this year and traveled thousands of miles to reach our participants. They donated evenings, lunch hours, and weekends and shipped materials across the tri-state so that each My Money Workshop session could go off without a hitch.

We also expanded our volunteer opportunities for those who were not able to teach and received added support in HR, data entry, and event planning from several volunteers.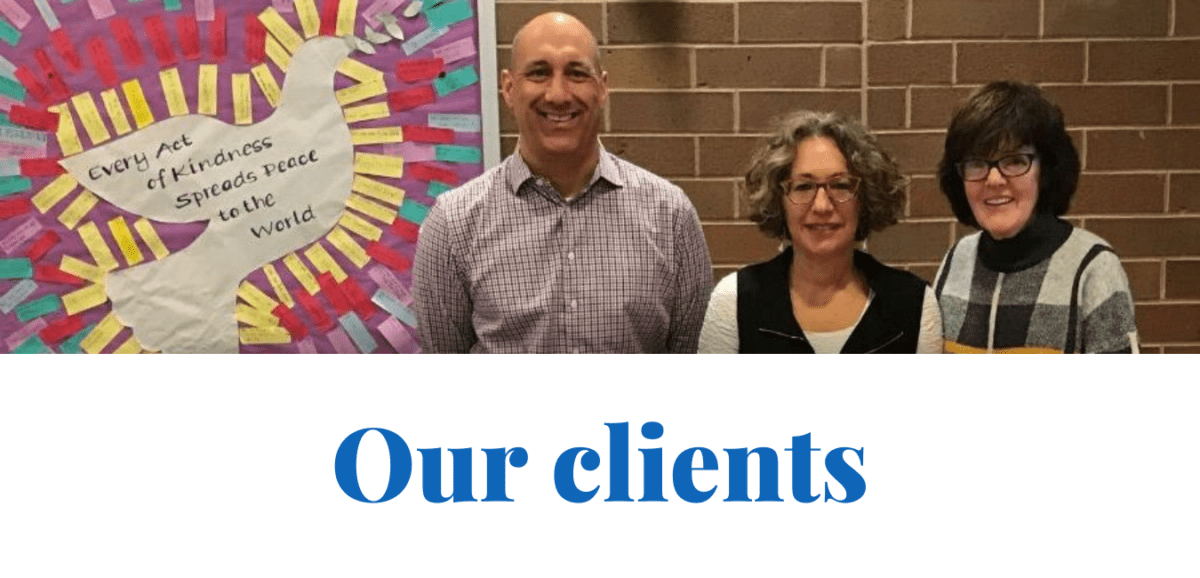 Every year we welcome new client organizations into our family. We are proud to partner with such worthy organizations. Welcome to those who joined us in 2019: 
JCC Manhattan – Adaptions Program
PS/MS 3 – District Ten Middle School
Peekskill Saturday Academy
KAPPA III/l.S 316 Junior High School
 Caring  for the Hungry and Homeless of Peekskill (CHHOP)
 JobSTAR/Student and Adult Program
 Columbia University School of Nursing
 Dwight NYC Middle School
Women's Prison Association (WPA)
 Bronx's Community Board 8 – Riverdale Neighborhood House
 ECHO Program at Hudson River Health Care
 Mount Vernon Career Center
 Lifting Up Westchester – Open Arms Men's Shelter
 YMCA/Putnam Valley and White Plains
 Peekskill Parent Resource Center
 Syracuse University – Men's Lacrosse
 Syracuse University/Falk College – First-Year Students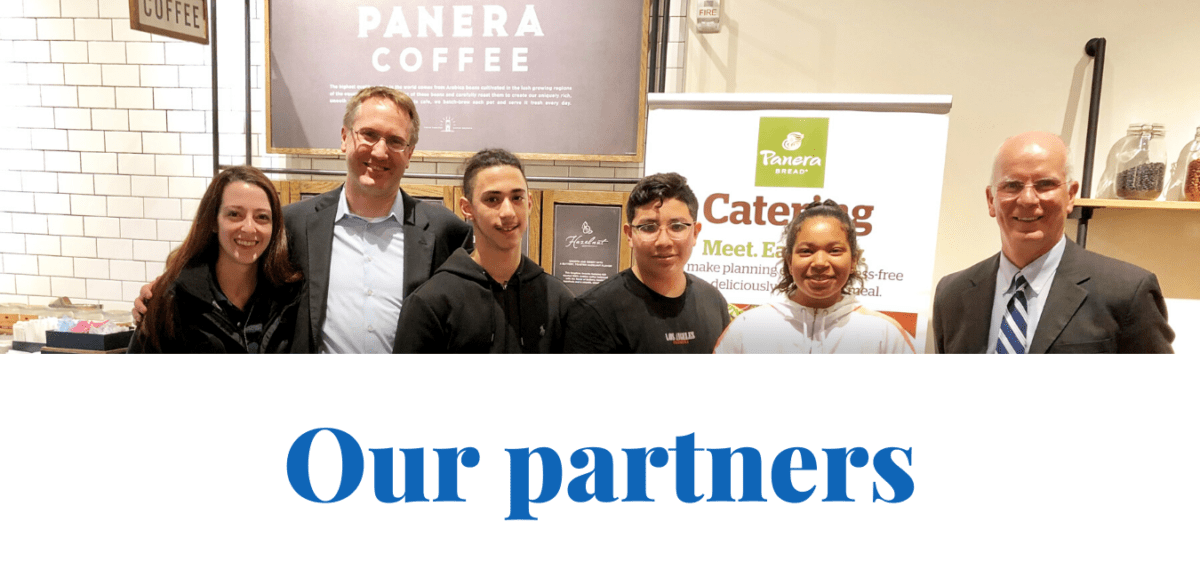 We are so thankful to our corporate partners who offer us, volunteer support, space, and expertise so that our participants can experience real-life situations like ordering food at a restaurant, visiting a bank, or doing their taxes. Special thanks to JPMorgan Chase, Panera Bread, H&R Block, and TD Bank for their support this year. 
As we look to close the year, we want to thank our 2019 donors for everything you do for My Money Workshop. Your financial support propels us toward the future. Thank You.
Leigh Abramson
Nathan Adler
Stuart and Lisa Alperin
AmazonSmile
Rand April
Laurie and Peter Atkins
Bank of America Matching
Tamara Behan
George Beitzel
Richard and Mary Benioff
Barry and Lilia Bloom
Jay and Sari Canell Family Foundation
Vin Carrega
The Charina Family Foundation
Stephen Chase
Elias Cohen
Gineyda Diaz
Erickson Family Fund
Facebook
Rick Fishkin
Lee Flanagan
Flom Foundation
Darren Fogel
Eric Friedman
Friedman Family Foundation
Howard Ganz
Vincent Gidom
Robert Goodkind
Howard Goodman
Peter Gould
Robert and Cassandra Greene
Robert Grossberg
David Haas
KC Hamann
William Handelman
Joseph W. Handelman Family Foundation
The Hartman Family Foundation
Laurel Eve Henschel
David Hirschberg
Gaylord Holmes
Huff Wilkes LLP
Ash Kacher
Lynn Kau
Christy Knell
Lewis Kramer
Gary Kris
Sheila Lambert
Stephen and Ann Leber
Steph Levy
Peter Liebert
Phillip Malakoff
McKirgan Family Charitable Gift Fund
Jay Meltzer
Celene A. Menschel Fund
Susan and Mark Mermel
Steph and Will Miller
Robert Norman
Livingston Norvin Group
Marilyn Pendergast
Arnold and Madeleine Penner Family Foundation
Murray Peyton
Raizen Charles Raizen Foundation Inc.
Eric Ribachonek
James and Kimberly Richter
Steven Rittmaster/The Goldstone Fund, Inc.
David Rosenberg
Sapir Family Fund
JM and Mindy Schapiro
Tami Schneider
Peggy and Ronald Schulhof
Joseph Serling
Robert Sheehan
Muriel Siebert Foundation
Charlie Swift
Michael Tannenbaum
Kim and David Wagman
Richard Wang
Peter Wang
Warren Wasp
Beth Weiss
Earle Yaffa
Richard Yaffa
Robert Yaffa
YourCause LLC, Trustee Neuberger Berman Group LLC